Hide
Best Mans Duties (Yes There's MORE than just Best Man Speeches)
In a normal or traditional British white wedding, the best man's duties will include:
Organising a fantastic stag night for the groom.
Possibly helping to plan or organise some parts of the wedding and the wedding party.
Certainly assisting on the wedding day with logistics and being there to handle unforeseen circumstances that arise.
Assisting the groom on the morning of wedding day sobering him up with black coffee if required.
Getting the groom to the wedding on time, again, sober is considered good practice.
Supervising the groomsmen or ushers, ensuring any funny comments are from you only.
Ensuring the wedding rings are brought to the ceremony and then passing these to the bride and groom at the appropriate point in the ceremony without losing them or making any jokes about losing them. Oh, go on then.
Acting as a legal witness to the marriage
Giving an awesome speech at the wedding and thanking the bride's parents. The best mans speech has to be funny, and the best of the bunch. No pressure then. Don't worry. It'll be great with all the material you'll get from us.
Making a toast to the bride and groom at the reception (the easy bit - we've got toasts all lined up for you)
Dance with the Bridesmades (yes, we said DANCE - any other verbs are strictly your own interpretation) and helping to ensure that other guests make it to the dance floor and dance like it was 1999.
Decorating the car of the married couple with a substance that comes off easily. If even the local Kosovan car wash will struggle - it's too permanent.
Returning the Groomsmen's tuxedos or morning suits if they are rented. Tip: deliver and run, before they see the stains.
Best man's duties various other cultures...

In Uganda a best man does what is described above but he is also challenged to guide the newlyweds in ways of marriage. This means that ideally a best man must be married, preferably to one wife and should be in position to give sound, tried and tested advice. A best man must be a confidant and be discreet about the details he shares with the new couple.

In Ukraine a best man is responsible for guarding a bride during the wedding. When he steps away traditionally a shoe gets stolen from the bride. Then the best man has to pay a ransom in exchange for returning the shoe -- usually by either drinking vodka or paying money.

In Bhutan the best man presents himself at the wedding as a ceremonial guardian to both bride and groom. Thereafter he performs for the guests before commencement of marriage. These performances can last for 5 hours with the exhausted best man returning to his wooden carriage very similar to a dog kennel. He remains there to watch on before joining the other guests to celebrate the special occasion - usually in a drunken stupor.


Ultimate Best Man Speech
Welcome to bestman.co.uk. Our best man speeches got us featured on TV! Remember the the British Telecom advert - watch it again here, it features bestman.co.uk

You have found the very best resource on the internet for writing a best man speech.
We have compiled a fantastic pack that will give you all the tools, one liners and gags you need to write a speech that will leave people laughing their socks off and complementing you on a job well done.
See our Best Man Speech Pack for more information.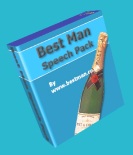 Earn some brownie points with the Groom's Missus and recommend the UK's leading wedding cakes website today (more info on wedding cakes). Stag paintball event - UK Paintball have great deals running all year round with over 45 premier paintball parks to choose from. For the perfect stag activity check availability online today. (more info on paintball)

the speech
See our famous Best Man Speech Pack. It contains EVERYTHING you need to make a fantastic best man speech.
To deliver your speech well you need to overcome your nerves (if you have any!) So we highly recommend the Confident Public Speaking download from HypnosisDirect.com. Recorded by a British Hypnotherapist and less than £5! Whilst you are there if you purchase two sessions you get a third free - so you might as well Quit Smoking and Boost Your Self Confidence while you are there!!
/